Although most people seem to have their own individual style, some share similar ideas and are influenced by the same people. My friends all have their own interpretation and expression of fashion with influences from many celebs. But when I was questioned with my kind of style, I was pretty much clueless. I have Kay, who is the Carrie of Sex and the City. I have Rose, who is this vintage goddess like the Olsens. I have Chi, who is this girly barbie doll like Kim K. I have Touyen who is this urban retro gal like Hillary Duff. Me? Eh. I am just a normal girl. I love being casual, regular, and conservative. Besides the dress to impress nights with the girls, I'm pretty ordinary. As I indulged myself in the April 2010 People Magazine with Jennifer Aniston, I think I found my very own celebrity match.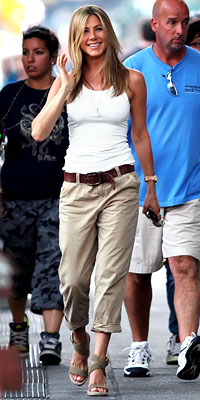 Jennifer Aniston has been the epitome of a true American Sweetheart and I couldn't agree more. She is very private, reserved, and gorgeous. I find her natural beauty amazing AND her style tasteful. She is casual, yet appetizing. Simple, yet classy. But when she is dressed to impress, she impresses.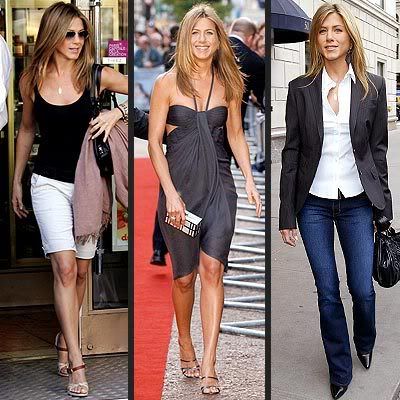 The warm and beautiful season is near, thus it is time to whip out those summer clothes. Simplicity and comfort-ability is key. Just take a look at Jen below. She has no more than two articles of clothing- top and bottom, and pairing it with a brown belt.